Fire Joker: Game Review
A lot of slot developers have moved away from making three-reels slots, but Play 'N Go continues to produce this type of game. There is certainly a market for it, with lots of people preferring these games rather than other slots with a larger number of ways to win.
Despite being what is considered to be an old-fashioned type of slot, Fire Joker has a very futuristic feel and design, in order to make sure it stands up against other modern releases.
With medium variance, Fire Joker pays out on a reasonable number of spins of the reels. What this means is that it should work for those who have a large bankroll and casino customers who are operating on a tighter budget when it comes to selecting the games they want to play.
Return to player on Fire Joker stands at 96 per cent, which is fairly average for a three-reel slot game of its type. Value on Fire Joker can therefore be considered to be OK, but not much better.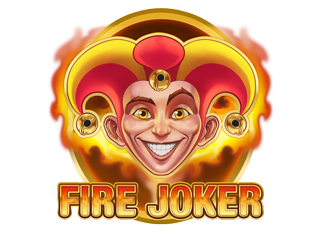 Fire Joker slot gameplay
Gameplay is where slots have the chance to stand out in a crowded market. After all, many online casinos these days have hundreds of slots to pick from. Fire Joker certainly looks and feels different to a lot of slots out there, though three reels and three paylines is a basic start.
Play 'N Go has worked hard to make Fire Joker feel like a classic one-arm bandit, though an auto-play feature has been included for those who like to sit back and relax while playing. Auto-play on Fire Joker will go through 50 spins of the reels before coming to a stop.
Mobile players at online casinos are well catered for by Fire Joker too, as the game plays extremely well on devices such as tablet computers and smartphones.
Fire Joker winning symbols
Anyone who has played classic slot games in the past will be familiar with the symbols that have been included in the Fire Joker game.
There are fruits such as the grapes and the cherries, as well as jokers, 7s, stars and bars. The fruits are the lowest-paying symbols in this particular online slot game.
There is also the Fire Joker from the name of the slot, which is the highest-paying symbol that can appear on the reels.
The Fire Joker acts as the wild symbol for this game, so it is very welcome when it pops up on the reels.
Fire Joker special features
A flaming re-spins mode is the major special feature to have been included in Fire Joker.
This happens in the event that the same symbols appear on two reels without there being a winning payline. As a result, the bonus feature gives something back to players who narrowly miss out on a win from the initial spin of the reels.
The biggest wins on Fire Joker will come when the same nine symbols come up on the screen. When this happens, there is a chance to multiply the winnings that have already been banked. The screen will feature a burning red wheel and this is where Fire Joker gets interesting.
In this part of the slot game, different multipliers can be added to make the potential profits even more impressive. As a result, there is the chance to win up to 800x the stake selected on a single spin of the reels when playing the Fire Joker game.
Why play Fire Joker?
There is no doubt that Fire Joker is quite basic compared to a lot of other slot games at online casinos. However, this does not have to be a bad thing. For a lot of players, just having three reels will be a good thing as it makes the gameplay a lot simpler to follow.
The bonus features on Fire Joker are fine, but those who are used to modern games with multiple additions in them may be left a little disappointed.
A combination of RTP of around 96 per cent, coupled with medium variance, means that Fire Joker has decent value, but this is not enough to make it stand out against rival slots.
All in all, anyone who likes three-reel slots should definitely try out Fire Joker, but there are similar games out there with greater long-term playability.