Playing online Live Dealer poker
Poker is one of the most popular gambling games in the world. You can find games between people sitting around a kitchen table to games being played in exclusive VIP poker rooms in casinos. So, it comes as no surprise that online casinos have a vast online poker offering.
The biggest difference between land-based and online casino poker games was that, previously, online casinos only offered video poker.
That has changed dramatically.
With the rising popularity of online Live Dealer games like blackjack and baccarat, online Live Dealer poker was a no-brainer for online casinos. Now players can play a variety of poker games in an environment that is so close to a land-based casino that you would be forgiven for trying to attract the attention of a waiter to get a fresh drink.
What makes online Live Dealer poker different?
It's different to video poker in that you are playing against another person. While this may seem academic, there really is no substitute for watching an opponent's reactions to the way your cards are falling. Even though the dealers are incredibly professional, every human has a reaction and seeing them – and talking to the via live chat – is thrilling, especially when you pull a third ace o get a full house and beat their flush.
Apart from slight differences in the tech, like having oversized cards with the values printed very prominently so you can see them over the cameras, there is no difference between poker in a land-based casino and online Live Dealer poker.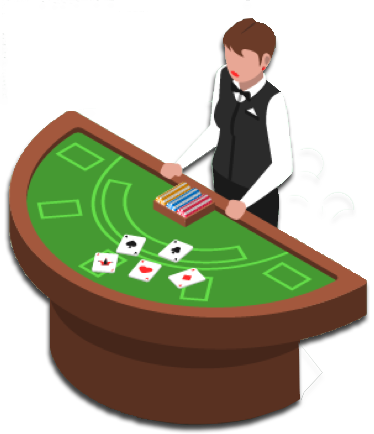 What poker games are available live online?
You can enjoy pretty much every version that is found at a land-based casino. Different online casinos offer different online Live Dealer poker games so you might want to have a look at their Live Dealer lobby to see what is available.
In general, you can find:
Texas Hold'em
Ultimate Texas Hold'em
Casino Hold'em
Three Card Poker
Caribbean Stud and more.
Are online Live Dealer poker games rigged?
If you are playing at a legit online casino you can rest assured that your games are fair and above board. Most top online casinos – essentially the online casinos that can afford to offer online Live Dealer poker ­– rely on the top game providers like Evolution Gaming, Playtech and Micro Gaming for their online Live Dealer games and these providers have strict protocols and practice in place to ensure fairness.
Some of these protocols include card scanning tech to register and record each card that is dealt, cameras that watch over and record all games in progress, and even physical pit bosses to keep an eye on the proceedings.
The dealers themselves are highly trained and incredibly professional. From their interactions to their appearance, from their banter to their outfits, these dealers could be sitting across the table at a casino in Vegas or Monaco.
Casino 247 says:
Online Live Dealer poker brings all the intrigue and excitement of real-life poker straight to you. If you are a poker fan who is feeling a bit disconnected from the social aspect of the world's most popular card game, and you really don't feel like watching the video poker cards flip over one more time – get yourself to an online casino that offers you online Live Dealer poker. You will not regret it.
Add in the ability to play from anywhere, via your PC or mobile device, and you have the perfect combination of setting, people and thrills.
Casino 247 recommends these online casinos for a thrilling online Live Dealer poker experience.
For South African players, head on down to these online casinos that offer online Live Dealer poker:
We recommend you do this before playing online Live Dealer poker:
Try a few different online casinos before jumping into Live Dealer games.
Always check the rules before you start playing.
Set a budget and stick to it.
Use winnings to carry on gambling and put your initial stake aside to play another day.