HOW TO PLAY VIDEO POKER
Video Poker – rules, strategies and the guide
Most online casinos that are available in South Africa have lots of video poker options to try out. After all, this is now one of the most popular online gambling options around the world. But for newcomers to the online casino experience, video poker games can be a little confusing. There are so many out there it is hard to know where to start, or how to go about playing them.
With that in mind, the Casino 247 guide to video poker is here to tell you all you need to know about this type of game at the online casino. Read on and you will be ready to start playing!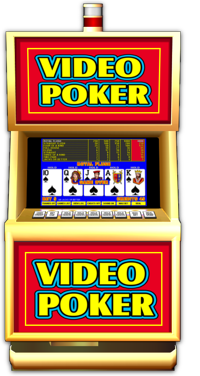 Video poker basics
One of the reasons why video poker is so popular is that the player has some level of control over whether or not they lose money. This is unlike games like roulette, where who wins and loses is quite random and there is no skill involved whatsoever apart from guessing correctly.
Players can make decisions in video poker that increase their chances of winning. What this means is that a strong video poker strategy can cut the game's house edge to a low level.
Low house edges are key when playing at a South African online casino as it gives players the best possible chance of making a profit by the end of their session.
The five cards that are dealt at the start of a game of video poker are entirely random. Some machines or online video poker games may create the illusion of control by including a stop button, but this does not actually impact on what cards are shown on the screen.
Once the five initial cards have been decided, it is up to the player how to proceed. They may opt to get rid of all five and take their chances on a whole new bunch of cards. They might opt to ditch one or two in the hope of striking it lucky on a winning hand. The choice is with the player.
So what are some of the strategies that players can use when they select video poker games?

Video poker strategies to try at online casinos
Unlike games like roulette that are decided by luck, there is skill involved in playing video poker and this means strategies can be used by players to come out on top against the online casino.
Any poker player will already know some of the best hands to go for, such as the royal flush, the straight flush, the straight and the flush. These are still great hands in video poker and should be held by any players fortunate enough to get them from their initial five hands.
A pair of jacks or better is usually the worst possible hand that still earns a win, so it is risky to break this up in order to chase something that might prove to be a lot more profitable.
Low pairs are often worth keeping in video poker due to the possibility of landing either a full house, four of a kind or three of a kind, all of which are decent hands on these games.
If a player is only missing one card for a possible royal flush, it is sometimes worth breaking up a hand that is already profitable. This is because the royal flush is the best hand possible in video poker and pays out a large amount of money as a result. It is still a gamble, though.
Some players at South African online casinos believe in playing on streaks when they select video poker. But this is not usually going to be a good idea for the majority of people. After all, online casinos use data and statistics to come up with the payouts on video poker games. To ignore the mathematics in favour of a hunch is not going to give a player any advantage.
Of course, just like in all online casino games, there is a lot of luck involved when it comes to video poker. But the chance to gain control over whether a player wins or loses is appealing.
This guide has given you a breakdown of how to play video poker games – so good luck!