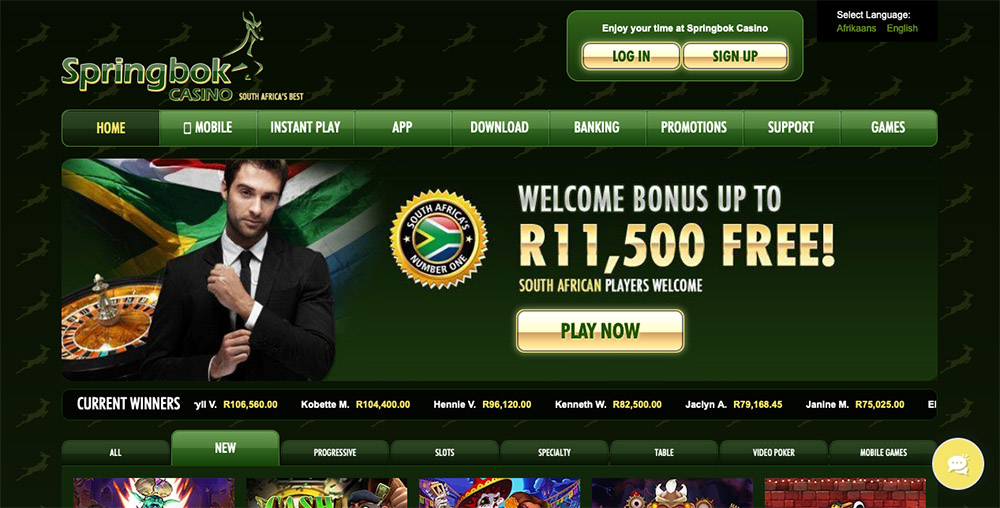 South Africans are spoiled for choice for online casinos that they can join nowadays. With so many different sites out there, deciding which is the best one to pick and sign up for an account with is becoming more of a challenge. This is especially the case due to the fact new online casinos are also being launched regularly.
But one of the main South African online casinos is Springbok – so is this site legal to use?
Online gambling laws in South Africa
As many South Africans will know, the country has quite a complicated history with gambling. Betting has been permitted and banned at various stages in the nation's history, with South Africa now home to a large number of impressive land-based casino resorts.
But internet gambling remains in something of a state in flux, despite near-constant speculation that there could be a change to the rules to make online gambling fully legal in South Africa.
At the time of writing, it is not legal to run an online casino in South Africa, nor to play at one. Of course, this has not stopped a number of operators from running South African online casinos, with these sites usually hosted offshore in order to try to circumvent the rules.
The National Gambling Act of 2004 outlawed all online gambling in South Africa, yet sites such as Springbok allow people to play a wide range of games online from the country.
Springbok Casino is widely regarded as one of the best online casinos that are available to South African players, with the name of the site making clear its target audience.In reality, it is virtually unheard of for either online casinos in South Africa or players themselves to be punished, with a blind eye turned to their operations most of the time in the country.
There have also been a lot of reports that online gambling could be fully legalised in South Africa at some point in the near future. With the global pandemic having a huge impact on land-based casinos over the course of the last 18 months or so, many South Africans who want to play games such as slots, roulette, poker and blackjack have had little option but to head online to try their luck.
The online gambling rules in South Africa are therefore widely considered to be no longer fit for purpose and it is expected this will be a subject of hot debate over the next few years too.

Springbok Casino – what to expect for South African players
One of the most important things for South Africans to know about Springbok Casino is that the site is 100 per cent fully licensed and regulated. The site has an online casino from Curacao, the same as some of the leading online casinos in the world, which helps to ensure it is safe and secure for players to use.
Anyone who is worried about whether or not Springbok Casino is legit can get in touch with the site's customer service department. Available on a 24/7 basis, customers who join Springbok are able to get in touch for help and support at any time of the day or the night.
There are a number of ways to contact customer service at Springbok Casino too. Live chat is likely to be one of the most popular methods, but email and telephone are available as well.
Over 300 online casino games and 150 mobile casino games can be played at Springbok, which ensures it has one of the biggest libraries of games of all South African casino sites. Mobile play is possible – a lot of South Africans now prefer to access games on a handheld device like a smartphone – while there is the opportunity to play on the Springbok site too.
Slot tournaments and freerolls are also available to play, adding to the long list of reasons why people should consider signing up for an account to play at the Springbok online casino.
While confusion remains about the state of online gambling laws in South Africa – and it would be no surprise to see more changes in the near future – Springbok remains a top choice for anyone who wants to join an online casino that welcomes players from the country.